It is Friday and the beautiful weekend before us. So why don´t short the waiting for it by nice reading about Cool IT news. Let's go.
Bitcoin is not only for nerds
The most popular cryptocurrency, Bitcoin, overcame two great borders the past week – first $ 6,000 and then even $ 7,000. It turns out that the confidence in this new technology, which has introduced the term Blockchain into the world, is constantly growing, and is no longer just for a few IT gurus sitting at home in the cellar. It has become a serious project with significant potential at many levels, including the technological one. More information
DOCSIS 3.1 has full 10 Gbit/s
The DOCSIS 3.1 standard was first implemented in 2013. Nowadays, after four years of its existence, significant updates have been published. The new specification implements a fully duplex process and the cable connection on the existing hybrid HFC line can communicate at 10 Gbit/s in both directions. If you understand something, you are as happy as we are. More information
30th anniversary of DNS
The Cold War was very strong, Reagan and Gorbachev solved the global troubles of the world. It was the year 1987. However, Paul Mockapetris did not sleep! He also solved the big problem. A problem that he later described in the newly created RFC 1034 and 1035. Problem of distributed and dynamic database of server names. This was beginning of DNS, which is basis of the entire Web functioning as we know it. DNS celebrated thirty years of its existence! More information
Important security vulnerabilities
Rabbit, beware of him!
Bad Rabbit! This is name of new ransomware that encrypts and disables data in the Petya / NotPetya style. So be careful about what you run or download because this rabbit never sleeps! More information
Vulnerabilities in macOS and macOS Server
Do you have a macOS server? Then be careful. There have been a series of serious security flaws, but no details have been released, yet. Vulnerabilities are related to MacOS Server 5.4, so we recommend to update it. More information

News from Coolhousing
Real Redundant Connectivity
Last week, we informed you about the perfectly managed maintenance by Core-Backbone. The event was announced in advance, however this situation had happened again, however this time without any warning and by Dial Telecom week later. And the result? See the charts below. As you can see, again, Coolhousing Data Center redundant connetivity is not only promise or monkey business, now even without warning!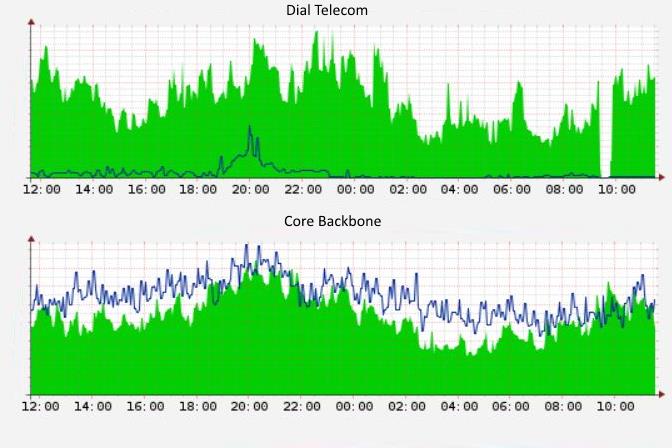 Author: Jirka Dvořák