The Coolhousing data center network can be called a multivendor solution – a combination of Juniper and Cisco brand technologies. The data center infrastructure uses the "Spine & Leaf" topology, which is characterised by high speed, predictability, scalability, and efficient communication. All the network routes that are used by the Coolhousing data center topology are configured in an active state using the Equal-Cost Multipathing (ECMP) method. This configuration allows using all the connections at the same time, while the network remains stable and loop-free. Thanks to such adjustment, the data center infrastructure is fully redundant and operated in a high-availability (HA) mode.
Spine & Leaf topology

Three optical paths independent of one another lead in two different directions from the Coolhousing data center on Vinohradská Street. Connectivity to the data center is provided by passive elements, through two geographically separated points (T-Mobile THP, CEColo), thanks to which we can offer our customers complete geographical redundancy of connectivity.
Our data center has separate links available into the NIX.cz neutral exchange point. It has transit connectivity available, ensured by the providers Vodafone Business and ComSource with full BGP tables, support for communities and blackholing. Of course, the providers of transit connectivity are divided in such a way that their services are available to all the data center routers and, at the time same, full redundancy is ensured.
Our network is directly connected into exchange point NIX.cz and also are available private peers with our partners.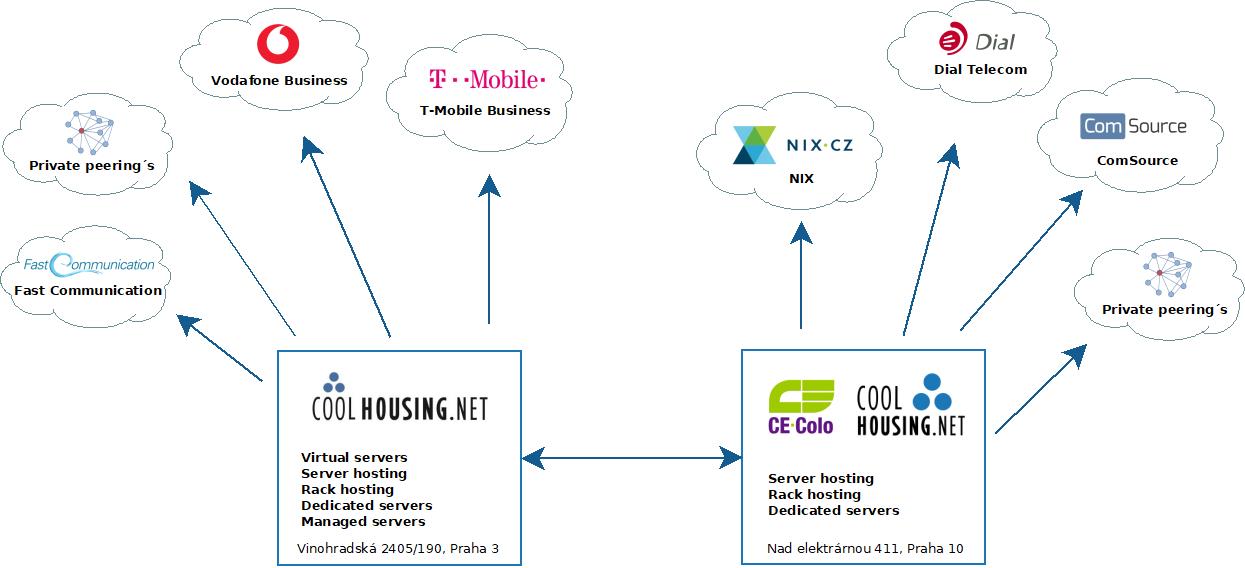 Along with this infrastructure upgrade, Anti-DDoS and Scrubbing center is newly operated at the level of connectivity providers. In this way, data traffic is cleaned as early as at suppliers, and the Coolhousing data center is capable of countering attacks in the order of hundreds of GB.
Coolhousing s.r.o. operates its own Internet autonomous system under registration No. AS35592, it is a member of the RIPE and NIX groups, and its network is directly connected to the Internet exchange point NIX.cz.
Do you have question or look for another solution?
Call us at +420 777 310 000 or send us a message, we will reply you immediately