About a year ago, we started to get inquiries about unusual servers. The shared requirement was to fit in at least three powerful graphics cards and a processor with just enough operating memory. At first, we did not know what the customers were after so we would suggest a rig that would unmistakably send them to our competitor. Last August, we got another such inquiry and finally the customer was more talk active.
Good specifications are always better to work with so the result was a rig that even made it to our standard price list for a time: VirtualCoin Miner.
Virtual currency mining is considered the modern day Gold Rush. Every day a more or less specialized periodical publishes an article with such terms as Bitcoin (BTC), Litecoin (LTC) and recently, thanks to the Jamaican bobsled team, Dogecoin (DOGE). After reading an article like that, many readers get the itch to get – or mine – their slice of the cake.
VirtualCoin Miner 1.0
As soon as we knew what the customer intended, we could start building a tailor-made mining server. The basic requirements were very simple: A cheap processor, 4 GB of RAM, virtually any hard drive but as many AMD graphics cards as possible, preferably the Radeon 7950.
At first glance the specifications seemed easy to meet; nevertheless, it was necessary to deal with the design of the server, or place the components in a manner that would guarantee sufficient cooling. A data centre usually has enough cold air but if you cannot get it where you need it, inside the server, it's worthless.
The result of our quest to find the right case was the Supermicro CSE-747TG-R1400B-SQ, a professional case intended primarily for GPU computing. In addition, the case has redundant, hot-swap, 1400W power supplies, which was great for getting enough power out of it. This was the birth of our rig under the working title of VirtualCoin Miner:
SUPERMICRO Tower/4U 8×3.5″ HotSwap, 3×5.25″, 2x1400W
ASRock Z87 Killer / Z87 / LGA1150 / DDR3 3050 OC / ATX
INTEL Pentium Processor G3220 3.0GHz, 3MB, LGA1150 Haswell, 22nm, 54W, VGA, BOX
CRUCIAL 4GB=2x2GB Ballistix Sport DDR3 1600MHz PC3-12800 CL9 1.50V (kit)
WD RE4 RAID EDITION WD5003ABYX 500GB SATA/300 64MB cache
3x XFX RADEON HD 7950 3GB GDDR5 PCI-E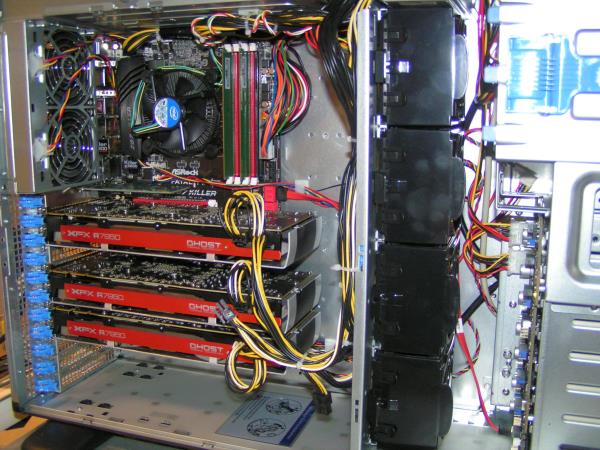 Unfortunately, the first 24 hours of testing showed us that the prototype we designed was far from optimal. Although we used a high-quality case with very powerful fans, we could not get enough cold air from the data centre to the space between the second and third graphics cards. The cards heated each other and sooner or later one of them failed. So a solution that every miner knows very well came into play: a PCI-e 16× to 16× riser, or a flexible extension cable terminated with a piece of PCB at either side, which is put in between the card and the motherboard to get the card off its original, unsuitable position.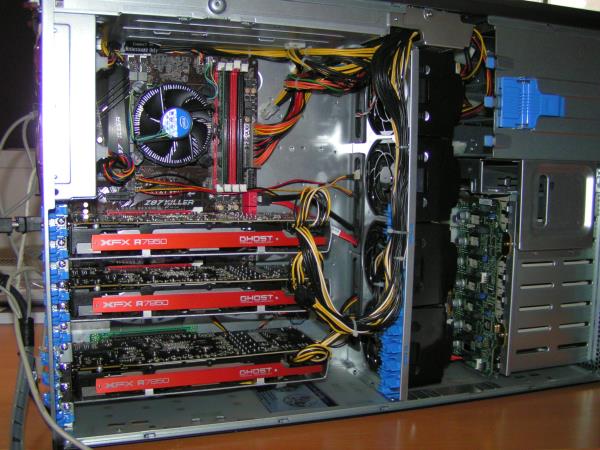 The installation of a riser worked. It gave the third graphics card enough space for air circulation and effective cooling. Problem solved, and the rig that can compute 1.8 Mhash/s (1.8 million hashes per second) became a stable and reliable mining device.
VirtualCoin Miner, second generation
The original Virtual Coin Miner was very powerful but its purchase cost was very high, which logically had to be reflected in the dedicated server price and the inevitable requirement for a minimum subscription period of 12 months. However, such a combination is a high risk in the mining of virtual currencies with an uncertain future.
To cut the costs, we decided to optimize the offered server a bit more. It was obvious that the rig's weak point is the case with the power supply. Although a top product, its price accounted for a whole half of the mining rig costs. So we said to ourselves that less is definitely more sometimes and tried to stick to that when designing the second generation of the VirtualCoin Miner. Including the fact that we only installed two graphics cards instead of three.
Assembling a server featuring just two graphics cards instead of three was much simpler. Once again, we chose a spacious case from Supermicro but now we limited ourselves to a standard Tower/4U model, the Supermicro CSE-743TQ-865B. The case is fitted with a high-quality 865W power supply unit that can supply enough power to all components with high efficiency and reliability.
Installing just two graphics cards broadened our options for the motherboards but we still grabbed the well-proven ASRock Z87 Killer, fitting it with our good old processor and adding operating memory and a hard drive.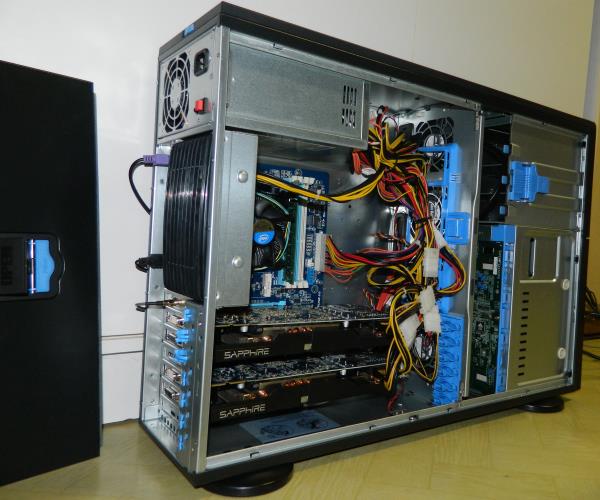 The flagship of the second generation of our mining machines is the VirtualCoin Miner 280x, fitted, as the name suggests, with two Sapphire DUAL-X R9 280X OC 3GB graphics cards. This rig reached values of just under 1.5 Mhash/s in our initial tests.
However, the scarcity of AMD Radeon R9 280x graphics cards, which are very popular for mining, makes deliveries of mining servers very complicated, so we decided to include alternative rigs in our offer. We decided to go with graphics cards that are easier to get hold of, such as the Radeon R9 270 or R9 290x. A machine fitted with a pair of Radeons R9 270 offers values slightly exceeding 700 khash/s, while a pair of Radeons R9 290x will reach values of about 1.8 Mhash/s, the same values as the first-generation Virtual Miner that had one more graphics card.
The fine-tuned, affordable mining rig makes mining easy for anyone. You can have the basic model of second-generation VirtualCoin Miners, the VirtualCoin Miner 270, for just CZK 3,192.00 per month, while a mining machine that will literally crank out hashes one after another, the VirtualCoin Miner 290x, can be yours for just CZK 5,326.00 per month without any initial cost, compatibility issues, with full hardware services, and all of that by tomorrow or sooner.
The prices are exclusive of VAT.
Author: Jirka Dvořák