Recently, we have prepared a lot of news in connectivity of our data center. We have entered the SIX and SitelIX nodes and we consider peering via these nodes to be domestic connectivity. But how do you recognize which way your data actually flow? Not only that but also other useful information can be offered by our collection of network utilities we have started up on the Looking Glass websites: https://lg.coolhousing.net/.
Of course, our magnifier runs in our data center so the results of its connectivity tests are almost identical as if you started the same tools directly on your server. The utility menu begins with the DNS resolver which replies the IPv4 and IPv6 addresses and MX record to a domain name while during reverse search, it replies the domain name to an IP.
The Get DNS Records function displays the DNS A record and DNS server addresses for the specified domain which our DNS server inquires about. The Whois (Web) replies the classic statement of the domain register to the specified domain name (in "old" TLD). If you enter an IP address you will obtain the statement of the domain register to the domain in reverse record of the address. With respect to this, the function differs from the Whois (IP owner) where traceability of the DNS record is not possible so the infornation about the IP address owner is really available when you enter the IP address.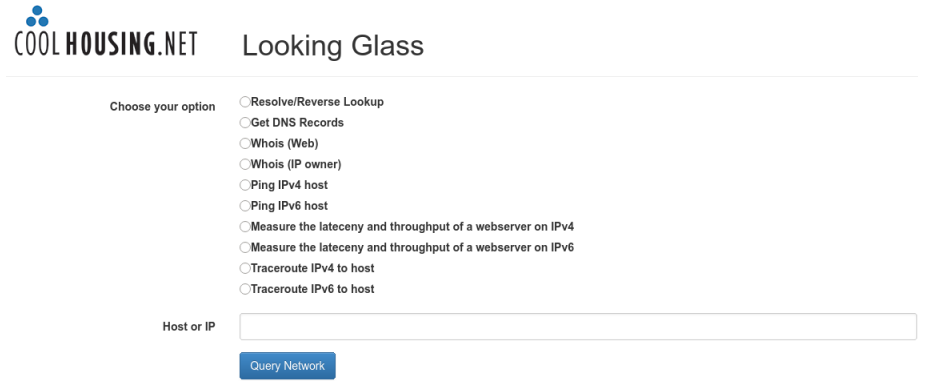 Another couple of functions includes Ping by means of the IPv4 or IPv6 protocol. The Ping replies a statement of ten packets sent to the target machine in the nature of a domain name or IP address. So ten pings again will be sent by the Measure the latency and throughput of a webserver on IPv4 / IPv6 functions but to the port 80 this time.
However, we have kept maybe the most useful function to the end: If you need to find out which way the data flow between our data centre and any other computer on the Internet try the Traceroute IPv4 / IPv6 to host functions. If you enter a domain name or IP address of the remote machine in Slovakia the Traceroute will tell you among others whether communication takes place via SIX / SitelIX and therefore is considered to be domestic connectivity or alternatively, whether it flows through the networks of our international connectivity providers Dial Telecom, Interoute or Fast Communication.
We believe that you will grow fond of our Magnifier and that it will help you in finding solutions to the problem of many which you may encounter during the operation of servers. Check it: https://lg.coolhousing.net/
Author: Jirka Dvořák